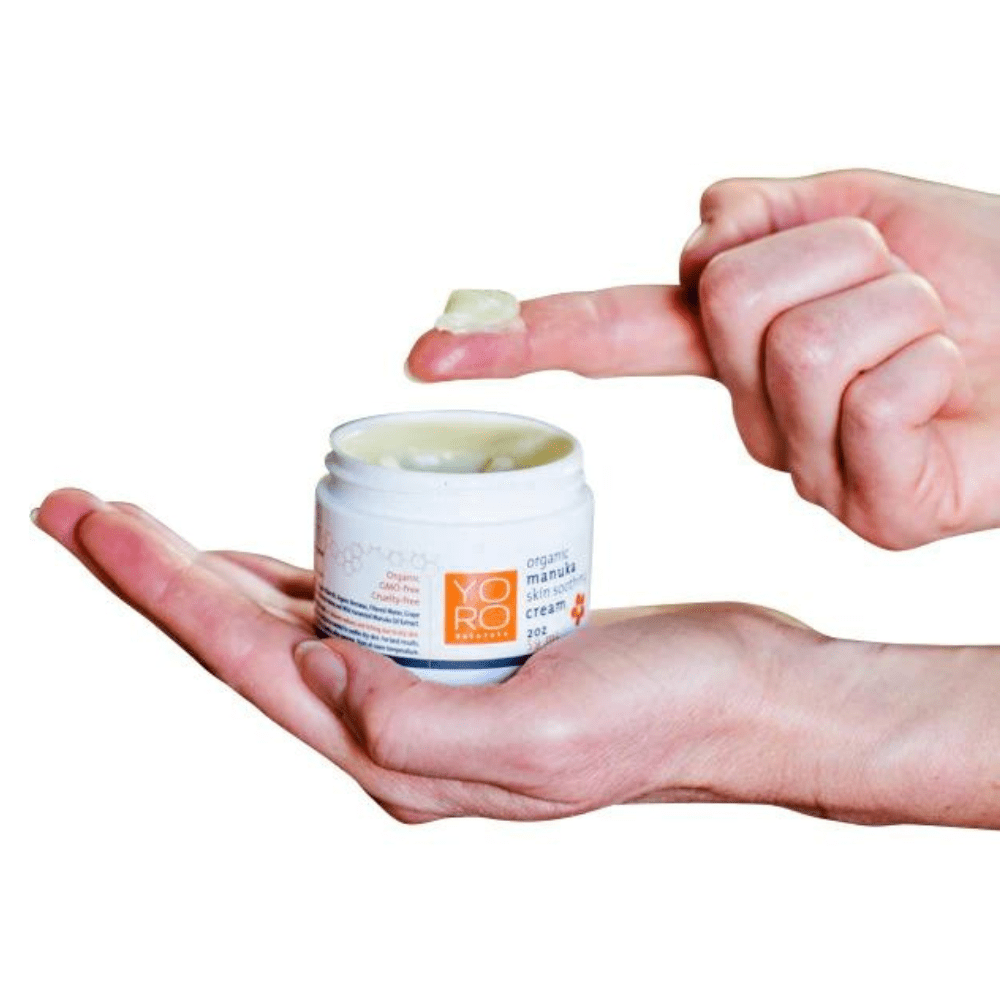 Organic Manuka Skin Soothing Cream by YoRo Naturals
• No sticky residue like other honey brands.
• Dermatologist tested and approved.
• Six all-natural ingredients & no fillers, preservatives, fragrances.

Manuka Honey for Eczema - The Original  by YoRo Naturals
Non-Sticky, Non- Burning Formula with Honey for Eczema

Dermatologist Tested and Approved
A creamy, non-greasy balm rich in emollients, this Manuka honey cream for eczema is our top seller because it moisturizes even the driest of skin. New Zealand Manuka honey is combined with organic tree nut-free oils and beeswax to create this gentle, nourishing eczema honey cream that will not burn or sting the skin. Our Manuka eczema honey cream is a surprisingly soft and creamy oil based balm, rather than a true water based cream that's excellent for soothing and calming irritated skin and flare ups. Also dermatologist tested and approved!
Can Manuka Honey Heal Eczema? (And why it's better than regular honey!)
Unlike other eczema honey creams, our smooth, creamy balm is not at all sticky, won't burn the skin and contains two key ingredients you won't find anywhere else:  Active 16+ New Zealand Manuka Honey and Manuka oil. Manuka honey is not only a natural preservative (which means we do not need to use ANY added preservatives like Phenoxyethanol, Caprylyl Glycol or Sorbic Acid), but it has 1,000x more methylglyoxal than regular forms of honey[1]. That's a whole lot of antibacterial power! When compared to tea tree oil, Manuka oil is 20 to 30 times more effective against bacteria and 5 to 10 times more effective against fungus. Now you see why, we love all things Manuka for treating skin irritation.
What Else Makes Manuka Honey So Powerful?
Studies indicate Manuka honey can reduce infections and promote wound healing. [1, 2]
It's used in hospitals for the treatment of burns, ulcers and non-healing wounds. [3]
Manuka honey can combat antibiotic-resistant strains of infections, such as MRSA (Methicillin Resistant Staphylococcus aureus). [3]
Honey has been shown to reduce symptoms associated with eczema and psoriasis. [4]
Simple, Pure Ingredients from YoRo Naturals
Something you won't find elsewhere, we only use six ingredients! When managing sensitive skin, we know that less is more in skincare products. Using less ingredients and only those of the utmost quality and effectiveness means less chance of a reaction. Only soothing honey eczema relief. And we don't add any fillers, fragrance, preservatives, nothing, nada, zilch. Only pure, simple ingredients you can trust, each hand picked for their skin soothing abilities by a mother who searched the moon and back for something to heal her own son's eczema. And now this gentle eczema honey cream is available for you.
Why you should try Manuka honey for eczema today!
Creamy, non-sticky, non-burning, non-greasy balm.
Active 16+ Manuka honey has 1000x more methylglyoxal than regular honey.
Manuka oil is more potent than tea tree oil when battling bacteria and fungus.
Can be used for dry or itchy skin, psoriasis, rosacea, perioral dermatitis, diaper rash, burns and more.
Can be used on body and face.
Dermatologist tested and approved.
Absolutely zero added preservatives or fragrances.
Handmade with only six ingredients.
Nut-free, Gluten-free, GMO-free.
Not gamma radiation treated.
Works very well with Dry Wrap and Wet Wrap Therapy.
Try YoRo Natural's Coconut and Sunflower Oil Soap Bar.
References
Organic Olive Oil, Organic Beeswax, Filtered Water, Grape Seed Oil, Active 16+ New Zealand Manuka Honey and Manuka Oil Extract.