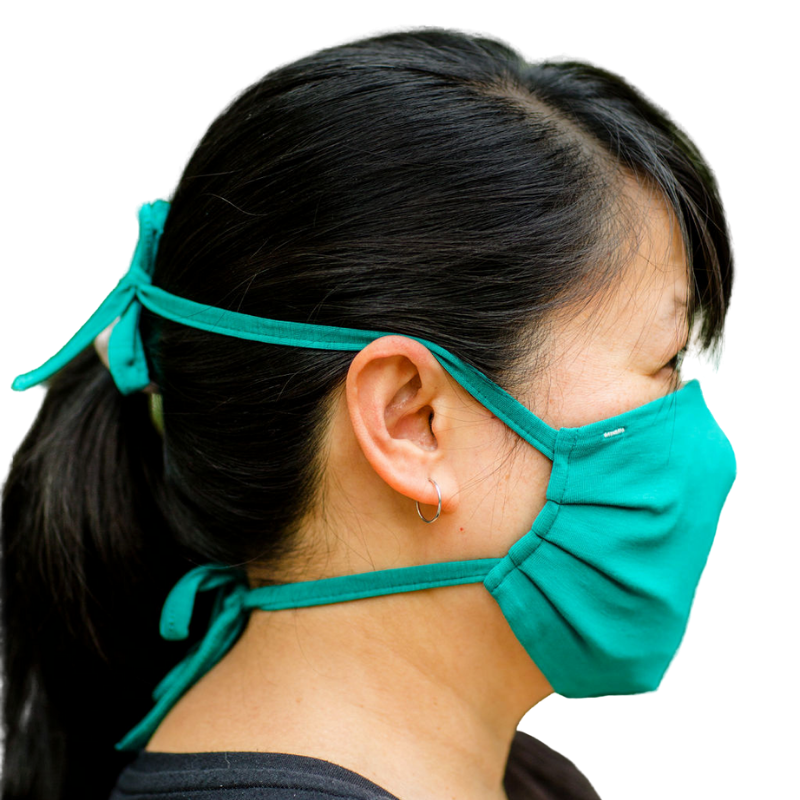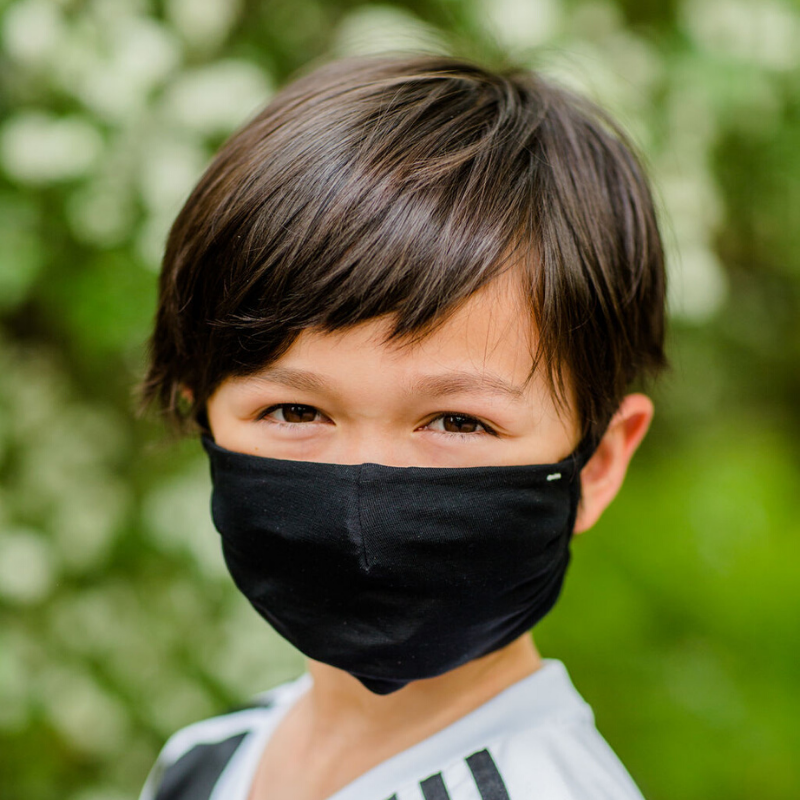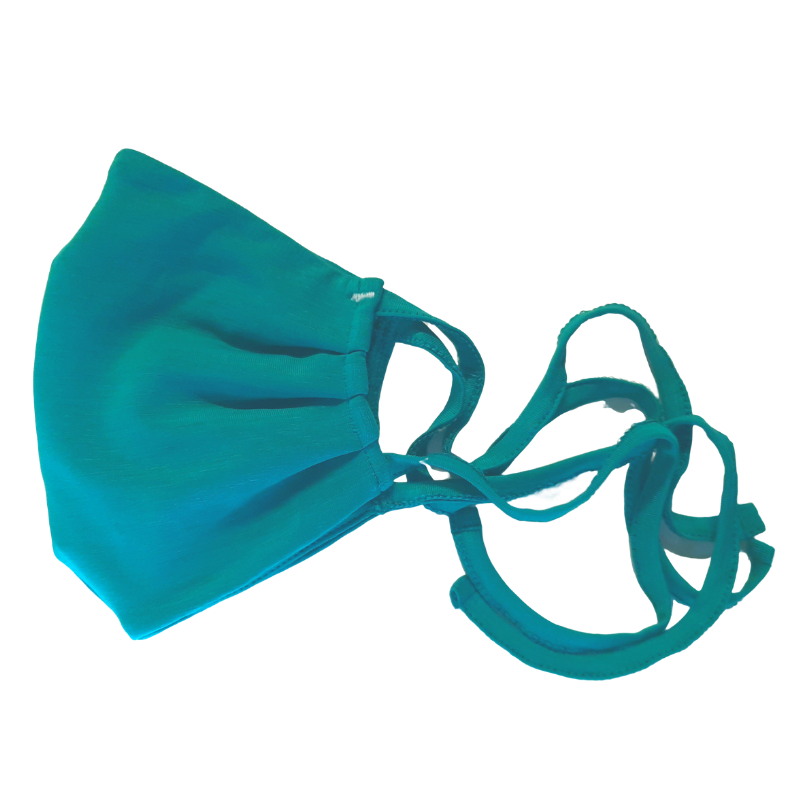 Remedywear (TENCEL+Zinc) 3 Ply Face Mask - Kids & Adults
Remedywear™ Reusable Face Mask with 3 Layers
We are proud to introduce the first reusable zinc face mask. 
This 3-ply face mask for sensitive skin is incredibly soft and breathable and is suitable for the most sensitive of skin.  Say goodbye to chaffing, facial irritations and dermatitis caused by other reusable face masks.  Remedywear's Tencel face mask is made with cooling, moisture wicking TENCEL and embedded with antibacterial and antimicrobial zinc to fight germs and bacterial growth that can build up on both the inside and outside of the mask. Remedywear's unique fiber blend used in this three ply face mask for sensitive skin works well to soothe skin conditions like eczema and psoriasis as well. Both the straps and mask in this antibacterial face mask contain a bit of stretch to provide a snug, but comfortable fit, that can be worn for hours at a time.
What makes Remedywear's zinc face mask unique:
Softer than silk and smoother than cotton, TENCEL fabric provides ultimate lasting comfort for all skin types.
Can reduce severity of atopic dermatitis when worn three nights consecutively [1].
Anti-bacterial, anti-microbial, anti-odor zinc helps to reduce germs and bacteria from entering the mouth or nose.
Embedded, not coated, zinc remains after 100+ washings.
3 layer mask structure - 1st and 3rd layer in jersey knit TENCEL and zinc + 2nd layer/inside filtering layer in tightly woven TENCEL.
No glues or resins of any kind.
Stretchy straps and mask fabric allows for a snug fit without the need for a metal nose bridge and with no side gapping.
Straps can be tied behind the head or behind the ears.
Sold as one unit. Buy two - one to wear, one to wash, then repeat!
Check out the full line of Remedywear™.
3rd Party Lab Tested
Our 3 layers of fabric were 3rd party tested by Citeve, a National Portuguese Lab with GPL (Good Practice Laboratory) Certification (the highest certification for a lab). Results were as follows:
Test for Breathability EN ISO 9237:1995: Good
Test for Particle Retention EN 14683:2019: PRC ( > or = to 3 µm) (%) :  85% / PRC (between 0,5 µm and 0,7 µm) (%) :  12%
CWA 17553:2020: Compliant
Additional Information
This face mask for sensitive skin is intended to serve as a barrier mask to complement, not override, the protection measures and the rules of social distance, which are fundamental for the control of airborne illnesses. Remedywear face covering masks are intended for use by those who leave their homes to travel for work, school or errands and to help protect the community. Additionally, these masks are not intended for use by healthcare professionals in the performance of their duties, nor are they a medical device. Thus, they do not comply with the regulation of surgical masks or individual protection equipment.
Remedywear face masks should be worn for a maximum of four hours and changed whenever they are damp.
References:
[1] Wiegand, 2013, Skin-protective effects of a zinc oxide-functionalized textile and its relevance for atopic dermatitis. Clin Cosmet Investig Dermatol; 6: 115–121. https://www.ncbi.nlm.nih.gov/pmc/articles/PMC3656624/
Remedywear is made in Portugal with fair trade, eco-friendly, award-winning production standards. Fabric is Oeko-tex 100 Class 1 certified.

Outside and inside layer:
• 75% TENCEL® (lyocell)
• 19% Smartcel™ Sensitive (TENCEL/lyocell + zinc)
• 6% Recycled Elastane

Middle layer:
• 100% Lyocell
Wash before your first use and after each wear.

Machine wash using a complete wash cycle at 140°F/60°C with a mild detergent. Lay flat to dry or use a gentle cycle at a low temperature. Iron at a low temperature setting (less than 230°F/110°C), if needed. Thoroughly dry before wearing.

The use of bleach, chemical whitening agents, fabric softeners or conditioners will shorten the lifespan of your mask - we do not recommend them. Do not dry clean.
Remedywear was specially designed to provide soft, comfortable, breathable garments for people of all ages with eczema and other sensitive skin conditions.
What makes Remedywear so special? Zinc! Anti-inflammatory zinc is embedded within a soft, stretchy blend of sustainably and responsibly made natural fibers (TENCEL) to create super soothing, super comfortable Remedywear.
In a clinical study [1], our ratio of TENCEL and Smartcel™ Sensitive was proven to reduce the severity of atopic dermatitis, reduce itchiness and improve quality of sleep when worn overnight for three consecutive nights. 
Here's why Remedywear is great for eczema and itchy or sensitive skin:
Awarded the National Eczema Association Seal of Acceptance™.
Soft, breathable fabric embedded with anti-inflammatory zinc.
Smooth, round fibers inhibit bacterial growth, and reduce odors.
Moisture wicking fabric means no sweaty irritation or chafing.
Soothing clothing that can be worn day and night.
Hypoallergenic fabric and dyes (phenylenediamine free), no irritation.
Free of latex, nylon, nickel and formaldehyde.
Tags (100% recycled cotton) are easily removed and seams can be worn outside the clothing for desired comfort.
Chemical free, Oeko Tex 100 certified fabric.
Check out the full line of Remedywear™.
Be Sun Safe
Our garments offer 35-50+ UV protection! Wear Remedywear to cover your fragile eczema skin when out in the sun and avoid harsh sunblocks that can cause further irritation.  Remember to always wear sunscreen to protect any parts of the body not covered by our clothing. Our soft, gentle clothing is not meant for play and should not replace surf/swim clothing meant for more aggressive use.  Check the chart below to verify the UV protection offered by the various colors when worn wet or dry.
References:
[1] Wiegand, 2013, Skin-protective effects of a zinc oxide-functionalized textile and its relevance for atopic dermatitis. Clin Cosmet Investig Dermatol; 6: 115–121.
https://www.ncbi.nlm.nih.gov/pmc/articles/PMC3656624/