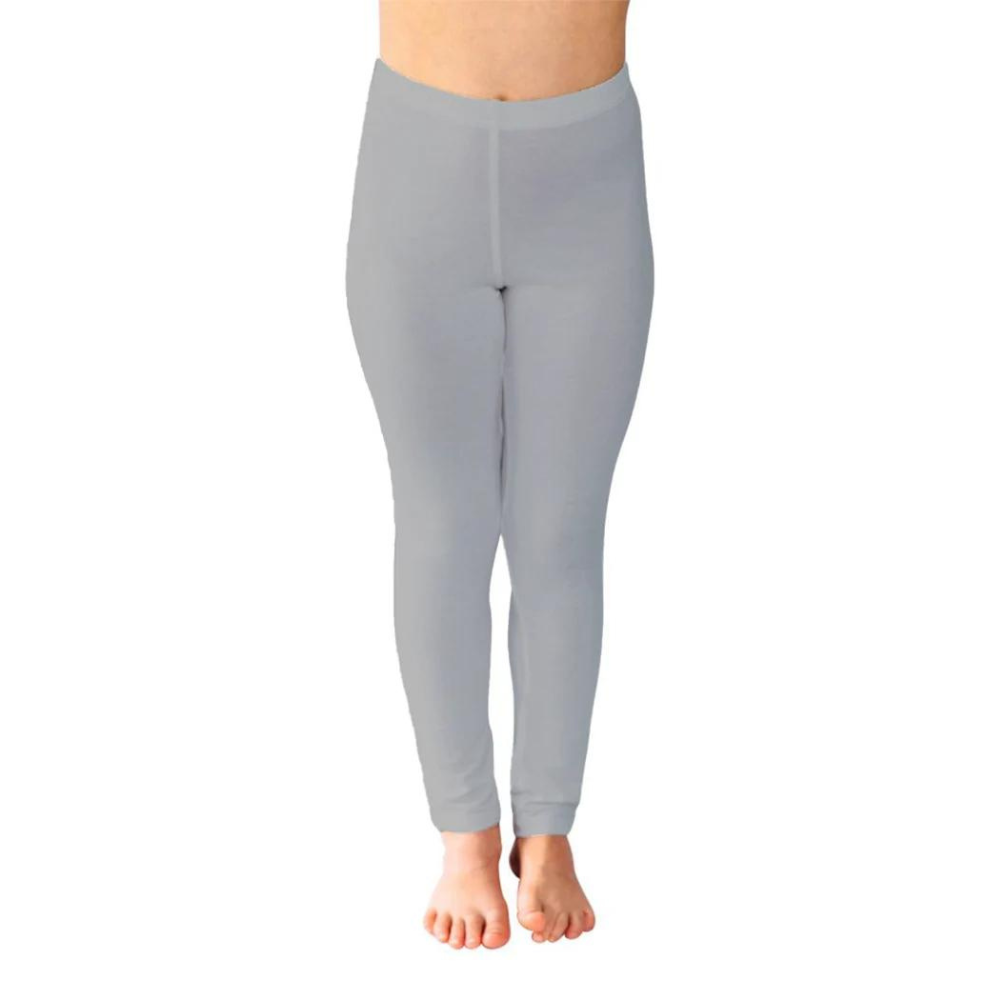 Remedywear™ (TENCEL + Zinc) Pants - ADULT Unisex
Eczema Pants
Step into soothing relief and protect your sensitive, itchy skin with form-fitting, soft eczema pants by Remedywear™. These incredibly light weight, soothing pants are made with eco-friendly, breathable TENCEL and embedded with anti-inflammatory zinc. As a hypoallergenic, natural mineral, zinc is known to help combat the urge to scratch while inhibiting bacterial growth in fabrics to support healing.
The symptoms of adult onset eczema can be agitated by certain fabrics, loose-fitting or itchy clothing. These pants are made with a super, soft silk-like fabric that is both moisture wicking and cooling. They also have a nice snug fit like leggings and have the perfect amount of comfy stretch for protecting your sensitive skin without added bulk. The light breathable fabric can be sheer at times and are best when worn underneath regular pants for daytime wear. They work great alone as pajamas for night time wear.
Remedywear pants are specially designed to help soothe the painful symptoms of eczema in men and women. Find your perfect fit based on the measurements in the size chart and use the pants as part of your treatment routine. The pants can be worn with eczema creams and are easy to machine wash and dry.
Remedywear is 100% satisfaction guaranteed or your money back within 30 days of purchase.
Just looking to treat the knees, calves or thighs? Try our Remedywear sleeves.
See the full line of Remedywear for babies to adults here.
Check out the coordinating Eczema Shirt for adults and Bra too. References:
[1] Wiegand, 2013, Skin-protective effects of a zinc oxide-functionalized textile and its relevance for atopic dermatitis. Clin Cosmet Investig Dermatol; 6: 115–121. https://www.ncbi.nlm.nih.gov/pmc/articles/PMC3656624/
Sizes are unisex, but based on men's sizing. Please be sure to carefully take your measurements before ordering.
Remedywear is made in Portugal with fair trade, eco-friendly, award-winning production standards.

• 75% TENCEL® (lyocell)
• 19% Smartcel™ Sensitive (TENCEL/lyocell + zinc)
• 6% Recycled Latex Free Elastane

Wash before your first use. Machine wash on a gentle cycle with cold water (<40 degrees C) using a mild plant or mineral based detergent with no bleach or chemical whitening agents. Do not use fabric softeners or conditioners. Do not dry clean.

For best performance and to extend the life of the garments, lay flat to dry. You may also dry on a gentle cycle at a low temperature. Iron at a low temperature setting (less than 110°C).
Remedywear was specially designed to provide soft, comfortable, breathable garments for people of all ages with eczema and other sensitive skin conditions.
What makes Remedywear so special? Zinc! Anti-inflammatory zinc is embedded within a soft, stretchy blend of sustainably and responsibly made natural fibers (TENCEL) to create super soothing, super comfortable Remedywear.
In a clinical study [1], our ratio of TENCEL and Smartcel™ Sensitive was proven to reduce the severity of atopic dermatitis, reduce itchiness and improve quality of sleep when worn overnight for three consecutive nights. 
Here's why Remedywear is great for eczema and itchy or sensitive skin:
Awarded the National Eczema Association Seal of Acceptance™.
Soft, breathable fabric embedded with anti-inflammatory zinc.
Smooth, round fibers inhibit bacterial growth, and reduce odors.
Moisture wicking fabric means no sweaty irritation or chafing.
Soothing clothing that can be worn day and night.
Hypoallergenic fabric and dyes (phenylenediamine free), no irritation.
Free of latex, nylon, nickel and formaldehyde.
Tags (100% recycled cotton) are easily removed and seams can be worn outside the clothing for desired comfort.
Chemical free, Oeko Tex 100 certified fabric.
Check out the full line of Remedywear™.
Be Sun Safe
Our garments offer 35-50+ UV protection! Wear Remedywear to cover your fragile eczema skin when out in the sun and avoid harsh sunblocks that can cause further irritation.  Remember to always wear sunscreen to protect any parts of the body not covered by our clothing. Our soft, gentle clothing is not meant for play and should not replace surf/swim clothing meant for more aggressive use.  Check the chart below to verify the UV protection offered by the various colors when worn wet or dry.
References:
[1] Wiegand, 2013, Skin-protective effects of a zinc oxide-functionalized textile and its relevance for atopic dermatitis. Clin Cosmet Investig Dermatol; 6: 115–121.
https://www.ncbi.nlm.nih.gov/pmc/articles/PMC3656624/