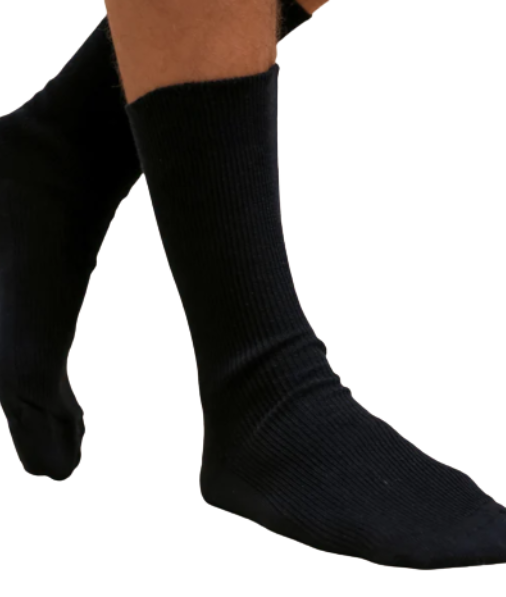 100% Organic Cotton Crew Socks for Adults (Lightweight) -2 Pack
These 100% organic cotton socks are the perfect solution for eczema or contact dermatitis on the feet. Made in a lightweight weave, these are best for warmer weather months or if you're looking for something lighter than our midweight cotton socks. There is absolutely zero elastic or latex of any kind, yet the socks manage to stay up well.
Lightweight - great for warmer weather.

Great for foot eczema, itchy feet, psoriasis, foot dermatitis
Works well for

 

wet wrap therapy
Elastic-Free
Spandex & Latex Free
Formaldehyde Free, Bleach Free, Chlorine Free
Hypoallergenic Socks
Lightweight 100% Organic Cotton
Calf High
2 Pack - Eczema cotton socks
Sizes are in centimeters.
These socks are unisex socks. Since they are 100% cotton, sizes fit differently compared to "regular items with stretch." Customers may normally wear a certain size in other sock brands but it may not be the same size needed in a Cottonique item due to limitations in elasticity. This is why we recommend customers do the following:
Take measurements in inches (foot length for socks)
Refer to the size guide above
Order one size larger to allow for 5% shrinkage. 
Though if a very snug is desired, stick to the sizes indicated in the sizing chart. We typically recommend a size larger from the actual measurement for a comfortable fit and to accommodate for shrinkage.
These socks are made with 100% Organic Cotton certified with Global Organic Textile Standard (GOTS).

Free from Gallate chemicals, Cocamidopropyl betaine (CAPB), Carba mix chemicals, Thiurams, Chlorocresol, Latex, Spandex and other harsh chemicals.

These socks are constructed using the finest long staple 100% cotton and engineered using a hand-link stitch to close the toe - this pair is a perfect balance of durability and breath-ability. The materials used are completely free from latex, spandex, and other harmful chemicals. Each sock sits on the calf and manages to stay up without the use of any elastic material making it ideal for those with an active lifestyle and always on-the-go. But without latex and spandex to hold their shape and elasticity, our socks may stretch out due to wear & tear over time.

Zero polyester.
• Do not use fabric softeners, conditioners or bleach.
• Wash in cool water (never hot) using a mild detergent, then rinsed thoroughly.
• Dry flat or use a cool iron if necessary.
• If using a dryer, garment should dried on the lowest temperature to minimize shrinkage.